Education:
Noel has an Engineering degree in Energetic and propulsion from INSA, Rouen (Fr) and a MSc in Thermal Power from Cranfield University (Rotating machinery and management). He is now a PhD Candidate (part-time) on the effect of high temperature corrosion on the mechanical properties of nickel based superalloys.
Experience:
Noel started his industrial experience at Arcelor-Mittal (Steel making company) on the improvement of the cooling system of the oxy-cutting machine. This was followed (a year later) by another internship in the maintenance department of a co-generation company, working on General Electric 7FA and 6B gas turbines. He then followed his passion for gas turbines and was hired as Field service representative (FSR) working for Solar turbines (Industrial gas turbines company) in the customer service department in November 2009.
The tasks of this position are quite varied, and include travelling to site for a maintenance or to start up a new equipment (which is usually straightforward). Troubleshooting or control system retrofits are much more complex and assigned to experienced FSR. The FSR has a wide range of responsibilities covering control system, instrumentation and mechanical tasks (alignment, trim balance...). These tasks are performed on generator and compressor set for oil & gas customers. The complexity is shared by an excellent (back-office) support team.
In June 2014, Noel moved to Regional field support engineer, helping technically colleagues and customers to keep turbo-machinery running. The tasks were similar than the previous position, with the added visibility from management. One highlights from this challenging position may be the start-up and commissioning of a dual fuel 7MW unit driving a 3-body centrifugal compressor for gas re-injection on a platform. The picture below show the process.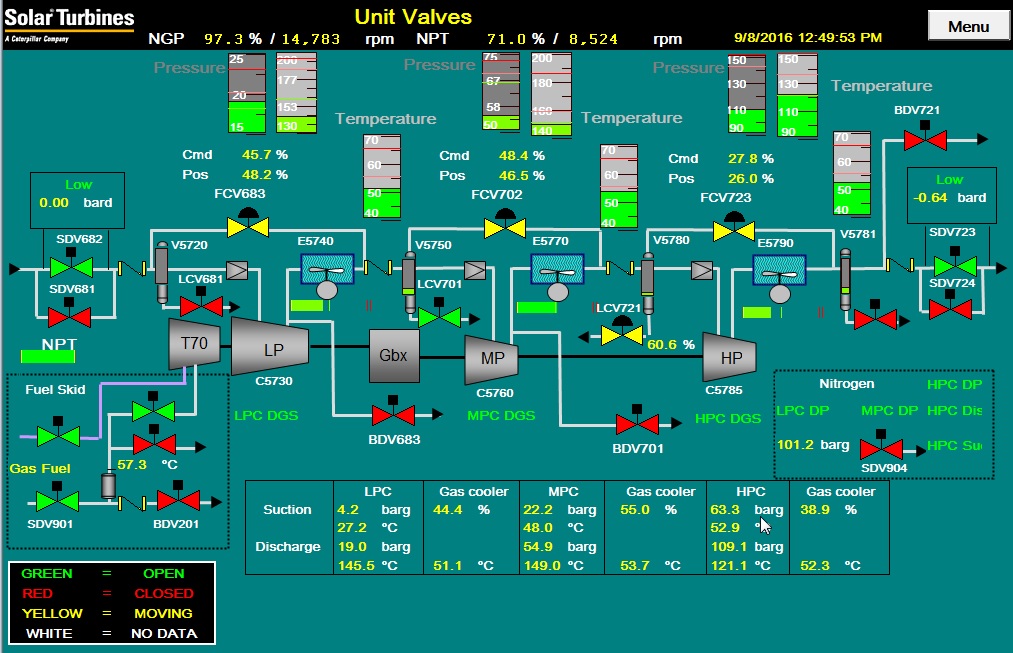 In January 2018, Noel moved to engineering department (working remotely for San Diego) into the condition based Engineering group.
Interest:
Noel likes sailing (though in Cambridge, it is difficult!)  and travelling (he was at one point able to speak Italian, Spanish, English and French). He  has also interest in the aero-industry (Royal Aeronautical Society member)
Key publications:
Not for the monent (08/2018) but will be updated later.